#Prosino #Group , The demo of Water Leakage Detection System are widely used for
large Data Center Monitoring, School, Hospital, Bank, Museum, Sever room, Building are so on .
Water damage refers to the intrusion of water into buildings.
The damage can take a few hours or a few months to reveal itself.
It causes a major loss of property in most cases. Water damage is most ruinous in offices and factories.
Water damage is actually very common. It occurs three times more often than fire damage.
It can not only occur in commercial buildings but also offices, schools, ie. in any type of building.
Here we would like to enclosed our Leakage Detection System demo picture .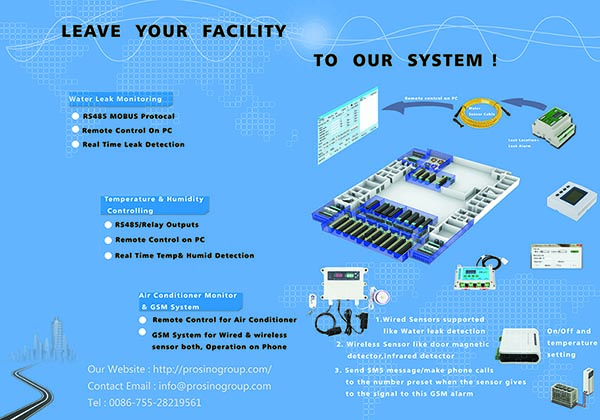 Many people overlook just how serious a threat water damage is to their buildings.
This is largely due to most of the damage being under the floors.
The damage is also sometimes behind the walls. There, it is not clearly visible and is easily forgotten about.
However, water damage can be incredibly expensive.
It can even cause up to multi-million dollars in irreparable damage!
Having a water ingress Leakage Detection System is therefore very important.
Water damage can then be detected early. It will not be given a chance to turn into something too serious.
Water damage typically occurs due to plumbing.
Maybe a water installment was not properly fixed or not replaced when worn out. It could then lead to a leak.
To avoid such leaks, visual checks should be done often. A better way to do it is to install water sensors in your facilities.
This is so water damage can be discovered before it becomes too severe.
For customized project of Leakage Detection System . Prosino Group is always here with you .
#Prosino #Group released Oil detection cable in the market with good feedback from our clients
For more information , Pls visit us at  https://prosinogroup.com/